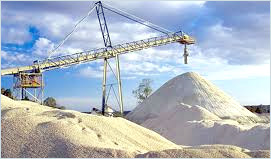 Traditionally, Natural sand has been used in all construction activities till recently. Natural sand is weathered and worn out particles of rocks and is of various grades and sizes depending on the amount of wearing. The main source of natural sand is river beds. However, natural sand is slowly and consistently becoming scarce. Moreover, since it is an environmental hazard to extract natural sand from river beds, even the government has banned it from time to time. Thus, a technically superior substitute to natural sand is NIRMAN'S CRUSHED SAND, manufactured by Nirman Buildmat, a Nirman group venture. We, at Nirman group, are in the Construction Field since 1980 and have earned a reputation of being one of the most reliable group with high quality Awareness and Transparency in Operations.

Nirman's Crushed SanNirman's Crushed Sandd is manufactured by granulating good quality stone metal. The partical size and shape and also the overall gradation of crushed sand is controlled in the manufacturing process, which takes place in a fully automated state of the art manufacturing unit. The result is excellent quality sand with consistent gradation. Thus, the major drawbacks of natural sand like irregular particle sizes, presence of organic impurities etc. are totally overcome. Crushed sand is widely used around the world and technicians of major projects around the world insist on the complusory use of crush sand because of its consistent gradation and zero impurity. The use of crushed sand results in dense and cohesive concrete thus increasing the strength and life of the concrete.

Even in India, the Civil engineers, Architects , Builders, Contractors agree that the natural sand which is available today, is deficient in many respects. It does not have sufficient fines and is not properly graded. Moreover, the presence of other impurities such as silt, coal, bones, shells, silica, mica, clay etc. results in reduced strength of cement concrete. The decay of these materials, due to weathering effect, shortens the life of concrete. Even the Government has banned the extraction of natural sand from river beds.

The only long term solution to this problem is crushed sand.

Nirman's crushed sand is an excellent quality sand which is manufactured according to the specifications of ISI2116-1980-2.0 and IS:486:2000 and IS:383:1970. The particle shape is semi rounded or cubical and not flacky or enlongated. The percentage of fines is adequately maintained and dust percentage is strictly controlled by a hi-tech state of the art Dust Suction Apparatus which is a unique feature of our plant. This sucks out the excess dust from the manufacturing process itself, leaving just the appropriate percentage of dust in the finished product.Plant : 34/2 Sarul, Near Vilholi, Nashik.