Corporate Social Responsibility

We believe that every Business provides goods & services to Society for which Society pays the price and Society also provides goods and services to Business for which Business rewards inputs to society by paying wages/profits/dividends etc.



We also believe that Society and Business are interdependent. Their growth & welfare is dependent on this mutuality. Business owes responsibility towards society.



We believe that any firm carrying very positive image in society has very strong probability of lasting growth.



We realise our dependence on Society for their needed inputs like money, men and skills, society as a market for their outputs and realise that we cannot exist without unreserved support from Society.



We believe that the more closely a company concentrates on solving societal problems, the better it is able to solve its own problem of growth and prosperity.



We believe that we as Corporate Citizens are trustees and we should utilise our wealth for the welfare of the society / community.



We believe in Trusteeship and observe code of discipline, ethical behaviour and strong principle of accountability.



We believe in transparent business practices that are based on ethical values, compliance with legal requirements, and respect for people, communities, and the environment.



Nirman Group has always believed in repaying its debt back to the society.


As a part of our CSR, we have

Mr. Nemichand Poddar, Chairman and M.D. of the Nirman Group, is extending a helping hand to the society by dedicating his resources and valuable time.



Mr. Nemichand Poddar is an integral part of many trusts and organizations that bring a positive change to lives through their various activities. His long lasting involvement and commitment helps bring about an enduring environment in the city and betterment of the society.



Mr. Nemichand Poddar's conviction and outlook towards addressing the needs of the society work towards prosperity and development of the less fortunate in Nashik thus adding value to society.



Mr. Nemichand Poddar, Chairman & managing Director of Nirman Group is as much known in the city for his several business ventures as he is known for his social contributions. He has been associated with several business organisations long before the fancy words as CSR was coined.


SOCIAL ACTIVITIES

Friends of Tribals Society, Nashik Chapter (Vanbadhu Parishad)
President of the organization that started 270 One Teacher Schools in Tribal area of Nashik District providing education to Tribal People.



Nasik Seva Samiti Trust
President (Karyadhyaksha) of the trust engaging in organizing huge religious functions like "Ramkatha, Bhagwat Katha, Satsang" and running a Charitable Dispensary



Founder President, Panchavati Jaycees
Formed in the year 1982 comprising of 106 members, having conducted 90 projects during the year & won many national awards of Indian Jaycees



State President of Maharashtra State Jaycees
Established in 1985 and won several awards for Maharashtra state at the convention of Indian Jaycees at Madras. Jaycees is an international organisation having aims of individual development



Agrawal Sabha Nashik
started various activities like Matrimonial Services Community functions where hundreds of youth and their families get to know each other for matrimonial purposes at a very little or no cost. Mr. Poddar has been as a Past President to the trust



Agroha Vikas Trust, Maharashtra State
Past President to the trust



Shri. Jamnadas Poddar Dharmasala Trust
Near Poddareshwar Ram Mandir, Central Avenue Road, Nagpur has been privileged to have Mr. Poddar as a trustee. The aim of the trust is to provide temporary accommodation to travellers at minimum rates



Promoters and Builders Association of Nashik
A Past President of the Association, the aim is to service the Promoters and take care of interest of purchasers of flats etc. at the same time. The first state level conference of Federation of Promoters and Builders of Maharashtra was held in his presidentship on 29th to 30th December 1995



Bhartiya Ekatmata Samiti, Nasik
Patron for the organization that conducts programmes for awareness of National integration amongst people of different castes, religion and creed



Agrasen Bhuvan Vishwasta (Trust), Nashik
Mr. Poddar has served as a trustee for the trust



Godavari Urban Co. Op. Bank Ltd. Nashik
Ex. Vice Chairman for the Bank



Nashik Hindi Sabha, Nashik
President of the organization starting Hindi and English Medium School at Satpur MIDC, Nashik comprising of 1300 Students



Nandinee Gaushala
Chairman of the trust taking care of 250 Cows where majority of them are "Jivdaya" cows



Nandini Gau Shala & Well Grown Agrotech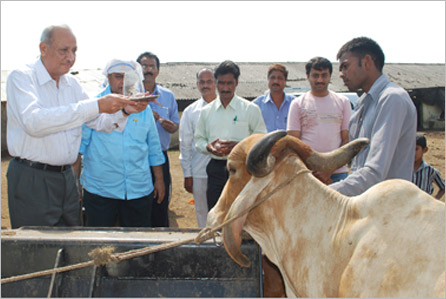 At Nandini Gau Shala we maintain cows at our "Gau Shala" (Desi Cows) a place where cows are being kept & look after systematically. Our "Gau Shala" has about 250 cows.

Gau Shala is about 22Kms away from Nashik near Umrale. In May 2002 Gau Shala was started on 100 acres of land .The environment is very natural, open, hygienic and clean. Cows roam freely on our Land for grazing during the day and in the evening when they are returning to their stable, the entire atmosphere is mystical like Vrindavan of Lord Shrikrishna time.

These cows are fed with nourishing and protein, vitamin rich foods. They have been regularly examined by veterinary doctors & treated accordingly.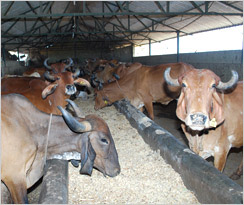 The cow is considered as a sacred & holy animal in Hindu religious. We worship cows on various occasions.

Cows are saved from going to slotter house.

We make "Gauark" from the 1st morning urine of cows, which makes human being a healthy one and gives resistance to fight majority of diseases.

The Cow dunk is used as fertilizer in farming which makes land more fertile. The dung obtained from Gau Shala is being used as compost manure or bio-technical for our Grapes and Mango plantations. We also have a Rose garden over there.